Hello everyone, I am back once again to give you the second part of my predictions for the group that is absolutely dominating TNA right now, the Aces & Eights. In part one, I predicted the futures of D.O.C., Knux, Garett Bischoff, Wes Brisco, Taz, and Mr. Anderson. In this part, I will predict the futures of President Bully Ray, Vice President D-Lo Brown, and the Sgt. At Arms Devon.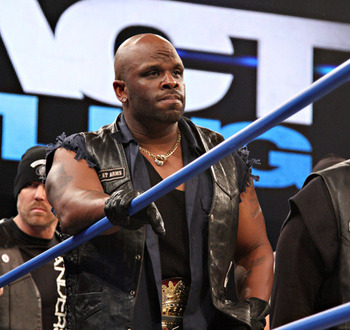 Devon was the first member to be unmasked all the way back at Bound For Glory, he has the rank of Sgt. At Arms and is the current TNA Television Champion. I believe he has played his part well and really held it down in the leadership role until D-Lo and Bully were revealed to be the V.P. and the President respectively. I expect that eventually he will drop the Television title to someone on the Team TNA side. I'd say Magnus would be the favorite to take the strap off Devon, it would give him something to build off of and it would be sweet revenge for him as he was one of the guys that the Aces & Eights put on the shelf.
Prediction: Devon loses the TNA Television Championship to Magnus.
D-Lo was revealed as the Vice President of Aces & Eights by Kurt Angle on the 3/7/13 edition of Impact Wrestling. D-Lo joining Aces & Eights "shook the foundation" of TNA seeing as how he had worked behind the scenes which allowed him to infiltrate TNA management. Some people weren't too thrilled that D-Lo was revealed as the V.P. as they were expecting a bigger name in that spot. However, I think he fits well in the role. I predict D-Lo will get taken out by the same man who unmasked him, Kurt Angle. Kurt will get sick of D-Lo getting involved in his matches and aiding his guys to victory which will result in Kurt wanting to get rid of D-Lo for good.
Prediction: Kurt Angle takes out D-Lo.
The man who was the mastermind behind it all, the current TNA World Heavyweight Champion Bully Ray. I have made it clear that I am not Bully's biggest fan but I have respected the work that he has put into this storyline, he has done some great work and it has paid dividends for the storyline. Bully might just be arguably the best heel currently in pro wrestling. I expect Bully will be champion for a long while, I think he will end up losing the title at Bound For Glory this October. Who will be his opponent? I got three options, one of them that a lot of people aren't gonna like.
Option 1: 
Mr. Anderson is my first option, in part one I predicted Anderson would end up turning on the Aces & Eights due to him being jealous that everyone in the group has a title except for him. I could see a scenario where he ends going after Bully and the belt.
Option 2:
In recent weeks, we have seen the darker side of AJ Styles which we are going to get more and more of in the weeks to come but I could see a scenario where AJ ends up joining the fight against Aces & Eights and challenge Bully Ray for the title at Bound For Glory. I could see either Sting or Hulk Hogan be the ones to convince AJ to help TNA and take the belt away from Bully. Not being able to compete for the World title has been a big part of his downward spiral, he can't compete for the belt until Bound For Glory this year as per the stipulation of the match he lost at Final Resolution back in December. So, this would be the perfect setup for AJ's redemption.
Option 3: 
Yes, I know this is probably everyone's least favorite option but I very well could see Hulk Hogan in this spot too. I for one would not be in favor in seeing another Hogan match as he is almost 60-years old and with the way he is physically, it would be in his best interest to not get back into the ring. However, with everything that the Aces & Eights and Bully Ray have done to him, it sets up his road to revenge.
Prediction: Bully Ray loses the TNA World Heavyweight Championship to either Mr. Anderson, AJ Styles, or Hulk Hogan.
Then, of course Bully losing the title would ultimately lead to the group's demise and TNA winning the war. How the members of the Aces & Eights shake out after the storyline is over is anyone's guess but this is how I see them playing out in the future. Thanks for reading and feel free to leave feedback!
Follow me on Twitter: @_CSpringer